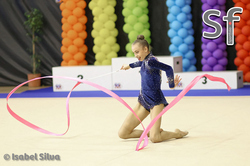 Russia nearly sweeps senior and junior gold medals at AGN Cup
26 April 2016
Gymnasts from 11 countries competed in the AGN Cup this past weekend.
Taking place in the town of Maia, more well known in the gymnastics world for its acrobatic gymnastics competition, AGN Cup brought 76 gymnasts to the competition floor to battle for medals in the all-around (seniors,juniors,2004,2005,2006) and apparatus finals(seniors and juniors). It was a busy weekend for the northern town as just a few meters away there was also a hip-hop dance competition taking place.
Veronika Rudycheva and Sofia Fedotova(RUS) divided the senior medals between them, with the latter taking home the all-around gold. In juniors it was Anna Lebedeva's turn to nearly sweep the golds, with exception of the hoop final which was won by Great Britain's Hannah Martin.
Eight out of the eleven participating countries took home at least one medal, with Russia(16) topping the medal stands followed by Portugal(11) and then the Ukraine tied with Spain(3).
Event:

Sport:

Gymnastics

Discipline:

Rhythmic Gymnastics

Category:

Individual Women