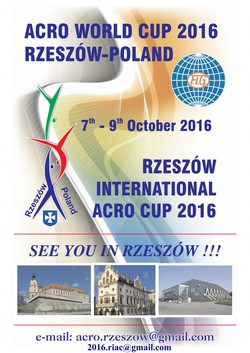 Rzeszow World Cup definitive registrations
14 August 2016
​The FIG has published the definitive registrations for the Acro World Cup that will take place in Rzeszów, Poland in early October.
​The list was published on August 3rd and has since been revised to remove a men's pair and a men's group from Russia that will no longer be attending. As expected, the competition features a majority of Eastern European countries, nevertheless, if every unit on the current list gets to compete, it will be an interesting one as some unusual countries in the World Cup circuit, such as Czech Republic or Ukraine, are planning to be there.
The number of entries doesn't show many surprises per category, with Mixed Pairs(8) and Women's Groups(5) presenting the most units. It is a pleasant surprise to find as many units registered here as there were for Maia World Cup, at a time of the year when most pairs/groups aren't ready for competition, World Cups are always at peril. We'll be looking forward to see some new faces in Rzeszów.
Event:

Sport:

Gymnastics

Discipline:

Acrobatic Gymnastics